In 2016, we first launched our information campaign 11 Months – 11 Topics in order to promote the European Standards of Care for Newborn Health. We developed a special 11 Months – 11 Topics calendar which runs from February to December. Each month corresponds to one of the eleven main topics of the standards project. We are proud to say that this year, our campaign has entered its 6th year!
This year, our focus is three-fold: renewal, implementation, and information.
Renewal is a fitting theme because this year, for the first time, the first standards are scheduled to undergo a review to make sure that they still represent that state of the art. Additionally, we expect to add a few new topic areas as well as more standards to reflect that our understanding of what constitutes high-quality neonatal care constantly evolve It also serves as a reminder that neonatal care is a highly complex topic and our work is still far from finished. Our 11 Months – 11 Topics campaign will provide updates about the revision process as the updated standards and new topics are officially incorporated into the project.
Another focus this year will be on implementation. Implementing the standards and improving neonatal care across Europe also hinges on ensuring that parents, healthcare professionals, and society-at-large understand the issues and challenges surrounding neonatal care. Translating the standards into other languages is therefore a crucial endeavour – and we are happy to say that several ambitious translation projects have been launched already. Moreover, due to its great success we will, once more, present selected Lighthouse Projects throughout the year to showcase instances when standards have been successfully implemented. 11 Months – 11 Topics will therefore feature, at irregular intervals, new translations of standards and reports on fascinating Lighthouse Projects.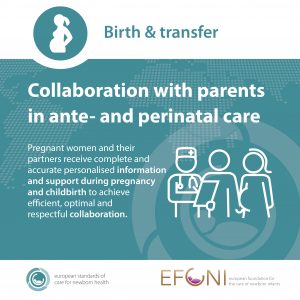 Lastly, we will continue to promote the European Standards of Care for Newborn Health in order to spread information about the project itself. Here, our 11 Months – 11 Topics campaign follows the calendar and shines a light on one particular topic area each month. We also feature once more a "Standard in Brief" each month in an effort to make the standards accessible for professionals and interested lay persons alike. This month, March, we highlight the importance of proper care during birth and transfer and present one related "Standard in Brief": "Collaboration with parents in ante- and perinatal care".
Check back regularly on our campaign site as we continue to update it every month. Many thanks for your continuous support! Let's continue to work together on behalf of babies and their families everywhere.